About Welsh
The History of Us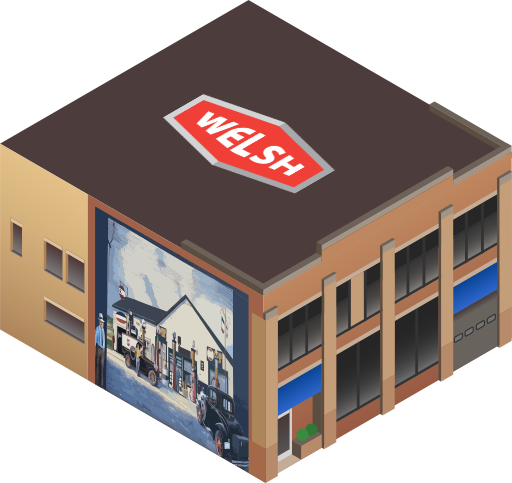 William Welsh had a fascination for Jaguar automobiles since he was a teenager and saw one parked along the street in Steubenville, Ohio. In the early 1960's Bill and his father purchased a Jaguar to restore. At the time, Jaguar parts (along with parts for any foreign car) were difficult to find. Especially since Steubenville was a major steel making center, everyone drove domestic cars.

Bill, being the tenacious spirit that he is, didn't let the scarcity of Jaguar parts stop him. He would sift through the pages of Hemmings Motor News to look for the parts that he needed. Bill would also place small ads looking for particular parts. When Bill had extra parts, he would also advertise them in order to continue to fund his restoration project. Eventually, Bill became known as the Jaguar parts man and dealers would offer him their redundant stock so they could free up space in their dealership. Other opportunities arose when dealers would close up or lose their Jaguar franchise and Bill was able to acquire more and more Jaguar parts.

Although Bill worked for Wheeling Pittsburgh Steel and his wife, Juanita taught nursing at the local Community College, they would store parts in their garage and package parts in the evenings to ship to other Jaguar enthusiast. After 14 years of working in the steel mill, in 1976, Bill and Juanita decided that there was an opportunity to make a living by selling Jaguar parts and Bill left the mill and started pursuing the Jaguar parts business full time.

After a few years of running Welsh Enterprises from their garage, Bill moved the business to a small shop on North 5th Street in Steubenville (a mere 5 blocks from our current location). After about fifteen years of growth in that location, there was just no more room to operate. As it happened, a perfect location became available at 223 N 5th Street. Bill and Juanita were able to purchase this building and move the operation to this larger, more comfortable and organized facility in the mid 1980's.

Shortly after that in the early 1990's, Welsh Enterprises became a licensed salvage dealer and now operates the largest Jaguar only salvage yard in the country.

Due to the passion, persistence and dedication of Bill and Juanita Welsh, Welsh Enterprises is now the largest independent supplier of Jaguar parts in the country, and continues to grow under the management of Dave Welsh, Bill and Juanita's son. Dave was made the General Manager of Welsh Enterprises in 1997 and continues the move the company forward.

Dave has pursued manufacturing critical parts and maintaining a vast inventory of items readily available to our valued customers. Dave and his wife, Candice, are active in supporting and attending the JCNA events. Candice also has taken on an active role in managing the Welsh Enterprises Marketing and Communications Department. Dave and Candice share the same passion of entrepreneurship and are dedicated to continuously improving of Welsh Enterprises.